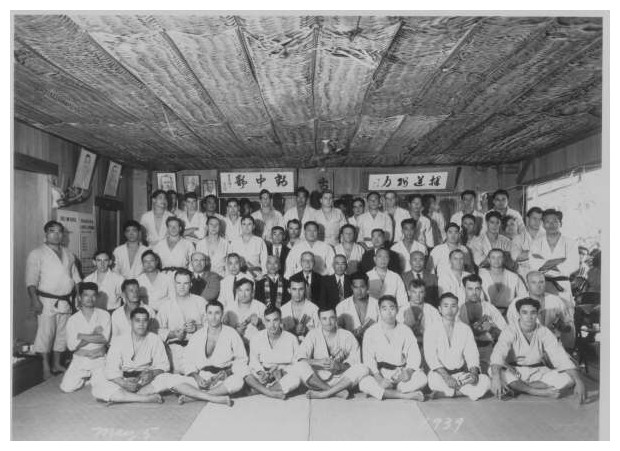 Graduating exercises for sixteen students in the ancient art of jiu-jitsu were held on Memorial Day at the Hotel street gymnasium of Professor Henry S. Okazaki. The grads, shown holding their diplomas in the first two rows of the above photo, received their black belts qualifying them as expert instructors in jiu-jitsu, after more than two years of study under Prof. Okazaki and his able staff of instructors - Iwashita, Kaneko, Wagner, Rickerts, Muggy, Glover and Freedman. Reading from left to right, the grads are: Front row Clarence Lane, Juan Gomez, Robert Pratt, H.A. Keating, Arata Kimura, Gilchi Sasaki and Markham Spencer. Second row - Joseph Swearinger, Theodore Muran, Frank Souza, John Cahill, Lawrence Davis, Marion Anderson and Vickers Ward. Not in picture - Young Kim and Edward Bailey. The following officers of the local jiu-jitsu and sumo society are shown directly behind the graduates: Dr. Glover, Prof. Wada, Rev. Tamayoshi, Dr. Katsunuma, Mr. Horimoto, Prof. Okazaki, Mr. Toyama and Roy Frisen.
This photo, while widely shared, is not from other scanned photos but is the identical from Professor Marion Anderson's personal collection.
The list of names is from the Honolulu Advertiser provided to David Scheid by George Freedman.